iPRODUCE
A Social Manufacturing Framework for Streamlined Multi-stakeholder Open Innovation Missions in Consumer Goods Sectors
Democratized innovation holds undeniable promise for European producers, but the integration with corporate innovation practices is in its infancy. While the interest is real, it is still neither easy or efficient for producers, especially SMEs, to benefit from collaborative production. The iPRODUCE project takes well proven concepts and approaches (from DIY manufacturing, FabLabs, Makerspace), and aims to upscale them through innovative technology solutions and to install them in well-connected multi-stakeholder ecosystems under an umbrella concept of collaborative Manufacturing Demonstration Facilities (cMDF).
We organize our work under a social-manufacturing platform that enables multi-stakeholder interactions and collaborations to support user-driven open-innovation and co-creation. At the heart of the iPRODUCE platform is an open digital space supported by a set of innovative tools that cover matchmaking, secure interactions, generative product design, process orchestration, agile prototyping, usability evaluations and lifecycle management. We complement these technical tools with a strong social component that aims at easing the notorious hardship of engagement with makers and aim to open up to new maker segments, while we improve on SoA tools for Lead User Innovation identification.
The iPRODUCE platform will be deployed in six local 'ecosystems' which cover different levels of maturity with collaborative production, diverse objectives and application areas spanning from home furnishing, automotive/mobility, consumer photography, medical equipment and more. The platform supports knowledge and resource sharing across cMDFs and all our results will be monitored and evaluated.
Not specified (see website if available)
Samuel Almeida
12/10/20 - 10:31
Join the iPRODUCE event | The Social Manufacturing Paradigm: co-creating with manufacturers, makerspaces and consumers
:: REGISTER NOW! ::
In recent years, every day citizens have had an increasing amount of opportunities to actively participate, contribute and decide in different areas and contexts. Although these opportunities are still emerging, the manufacturing industry is no exception to this paradigm.

The objective of the online event – The Social Manufacturing Paradigm: co-creating with manufacturers, makerspaces and consumers – is to highlight the role of makers and consumers in the social manufacturing landscape, which promotes the participation among individuals and the industry in the production of consumer goods.

This framework will be made based on the activities being carried out within the iPRODUCE project. The presentations will focus on highlighting the main requirements and challenges faced by consumers and the industry and technologies that are available to facilitate a collaborative manufacturing environment. Invited speakers will showcase ongoing work and existing practices within the domain of social manufacturing. Finally, a virtual round table will provide the audience with an opportunity to engage and manufacture a fruitful and interactive discussion.

Preliminary agenda:
09h30 | Virtual hello and welcome
09h45 | Introduction of iPRODUCE
10h00 | The social manufacturing paradigm: needs, practices and tools
10h30 | Keynote 01
11h00 | Break
11h15 | Keynote 02
11h45 | Presentations from iPRODUCE collaborations
12h15 | Virtual round table
12h45 | Wrap up and end of event


More information on the iPRODUCE website:

:: REGISTER NOW! ::
Read more
Go to project forum
Social feed
📢
#Event
alert - New date!
@iPRODUCE_EU
and the
@INEDIT6
,
@DIY4U_EU
and [
URL
] projects are jointly organising the "Open Innovation for collaborative production engineering" event. Join our
#open
#innovation
journey next 22.04.2021. [
URL
] [
Go to tweet
]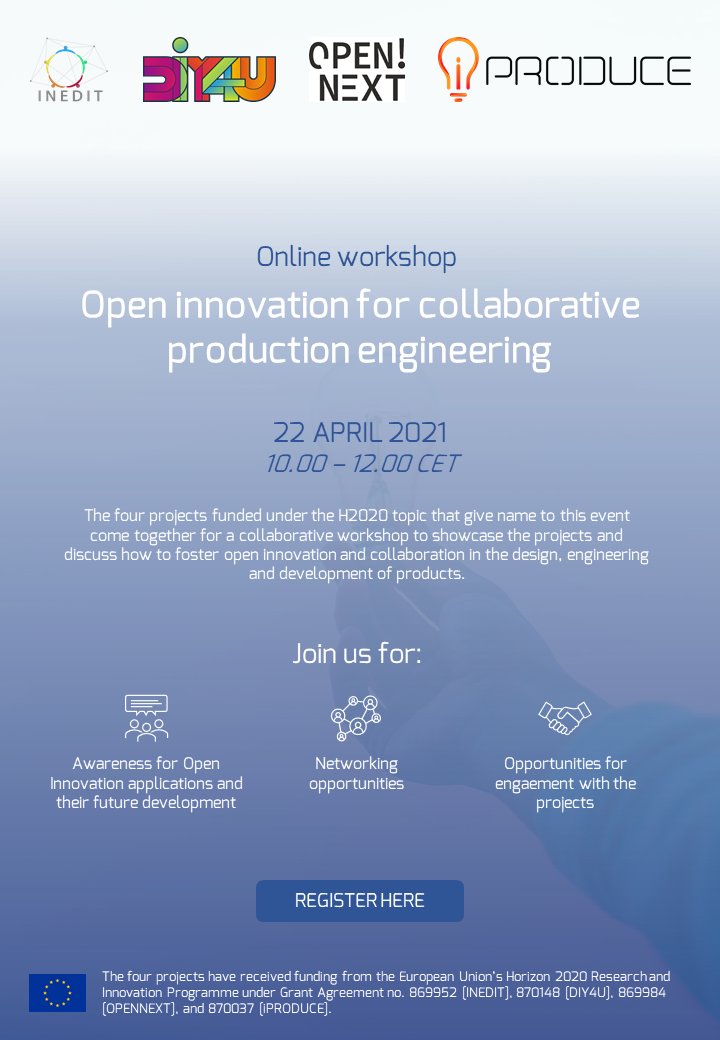 Visit Twitter Page
---
Go to project forum