UPTIME
UNIFIED PREDICTIVE MAINTENANCE SYSTEM
UPTIME will seek to reframe predictive maintenance strategy by proposing a unified framework and to create an associated unified information system in alignment to the aforementioned framework. Therefore, UPTIME will extend and unify new digital, e-maintenance services and tools in order to exploit the full potential of a predictive maintenance strategy with the UPTIME solution, will deploy and validate the UPTIME solution in the manufacturing companies participating in the UPTIME consortium and will diffuse the UPTIME solution in the manufacturing community.
UPTIME will enable manufacturing companies having installed sensors to fully exploit the availability of huge amounts of data with respect to the implementation of a predictive maintenance strategy. Moreover, production, quality and logistics operations driven by predictive maintenance will benefit from UPTIME.
UPTIME will enable manufacturing companies to reach Gartner's level 4 of data analytics maturity (optimized decision-making) in order to improve physically-based models and to synchronise maintenance with quality management, production planning and logistics options. In this way, it will optimize in-service efficiency through reduced failure rates and downtime due to repair, unplanned plant/production system outages and extension of component life.
Moreover, it will contribute to increased accident mitigation capability since it will be able to avoid crucial breakdown with significant consequences. Consequently, UPTIME will exploit the full potential of predictive maintenance management and its interactions with other industrial operations by investigating a unified methodology and by implementing a unified information system addressing the predictive maintenance strategy.
Indah Lengkong
26/06/20 - 11:22
UPTIME Newsletter - June 2020
Welcome to the 6th edition of the UPTIME Newsletter!
The UPTIME project has entered the evaluation phase. The prototype of the UPTIME Platform has been integrated into the three industrial business cases in its final configuration. In this edition, MAILLIS shares with us their first-hand experience and some lessons learned from the recent implementation of the UPTIME Platform in the MAILLIS Business Case, which deals with predictive maintenance in a cold rolling mill for the production of steel strapping.

In the previous newsletters, we introduced five of the UPTIME Platform's main components. In this issue, we'll present the last component prototype, UPTIME_VISUALIZE, which provides individual, customizable and configurable visualisation of data in a customer-oriented way. Its implementation in the MAILLIS Business Case is used as an example of how it works.
We have also been organising a series of webinars showcasing the main features of the UPTIME Platform including live demonstrations of their implementation in our industrial use cases. The first webinar on the implementation in the White Goods case was held on 19 March 2020. In case you missed it, you can find the webinar recording here.
The second webinar, "UPTIME Predictive Maintenance: Lessons Learned and Best Practices in the Steel Industry", will take place on Thursday, 09 July 2020, 11:00 – 12:30 CEST. We hope you can join our webinar and look forward to interacting with you and getting your valuable feedback. To register and get more detailed information about the webinar, please click here. We hope you enjoy our newsletter!
A full newsletter is available: https://www.uptime-h2020.eu/index.php/2020/06/26/uptime-6th-newsletter-edition-06-2020/
Read more
Indah Lengkong
18/06/20 - 07:34
UPTIME 2nd Live Webinar: Predictive Maintenance - Lessons Learned & Best Practices in Steel Industry - 9 July 2020
Date: Thu, 09 July 2020
Time: 11:00 - 12:30 CEST
Are all of the maintenance activities performed at a certain period of time necessary or can maintenance intervals be expanded in order to reduce the economic impact?
The UPTIME 2nd Webinar will address the key questions above and illustrate benefits of predictive maintenance by a concrete implementation in the Steel Industry. MAILLIS business case dealing with cold rolling mill for the production of steel strapping will be presented and its implementation in the UPTIME Platform will be demonstrated.
It is of outmost importance for manufacturing to have their machine or a piece of equipment that can tell its current health status and the degree to which that status deviates from normal or healthy along with predictions about its future health state, as well as actions recommendations. UPTIME will allow machines to perform self-assessment, on the basis of which decision making can be significantly enabled, to anticipate planned intervention on machines, to reduce unexpected breakdowns and delay other interventions, thus save money and improve safety.
The webinar is free of charge, dedicated to people who want to learn and see a concrete implementation of the UPTIME Predictive Maintenance Platform in a real business case. It is interactive, where you have the opportunity to ask questions to the experts panel and we are happy to receive your feedback.
If you have any questions or comments, please contact us.
Read more
Go to project forum
Social feed
Some practical implementation in the industrial cases will be presented tomorow at the ForeSee Webinar
#2
, by
@ProphesyProject
&
@z_bre4k
partners Haije Zijlstra & Daniël Caljouw, Philips,
@programsEU
partners, Michele Surico
@Fidia_Iberica
& Ignacio Martínez de la Pera, Aurrenak. [
Go to tweet
]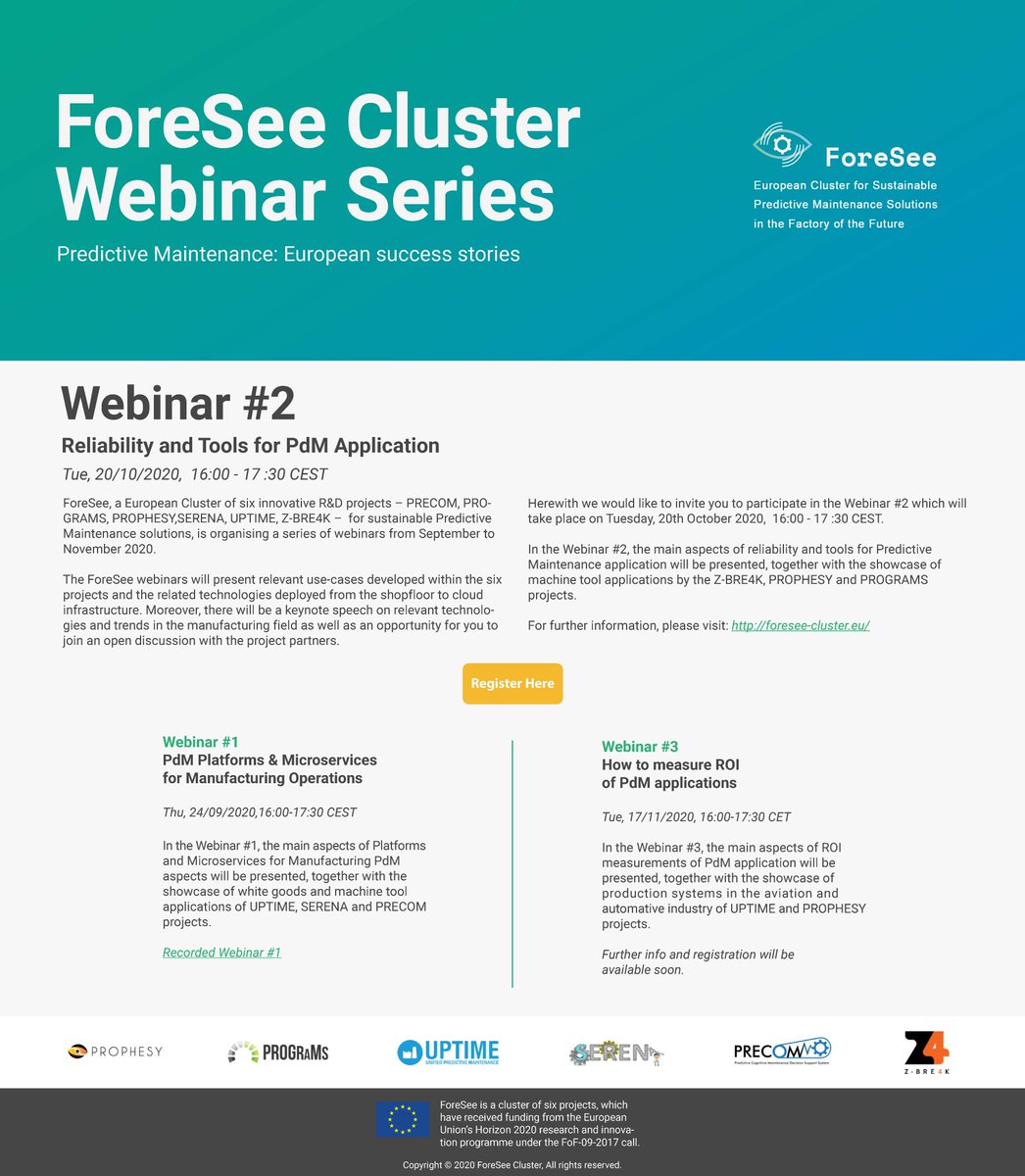 Visit Twitter Page
---
Go to project forum