INTEGRADDE
Intelligent data-driven pipeline for the manufacturing of certified metal parts through Direct Energy Deposition processes
The industrialisation of Additive Manufacturing (AM) requires a holistic data management and integrated automation. INTEGRADDE aims to develop an end-to-end Digital Manufacturing solution, enabling a cybersecured bidirectional dataflow for a seamless integration across the entire AM chain.

The goal is to develop a new manufacturing methodology capable of ensuring the manufacturability, reliability and quality of a target metal component from initial product design via Direct Energy Deposition (DED) technologies, implementing a zero-defect manufacturing approach ensuring robustness, stability and repeatibility of the process.
To achieve this aim, INTEGRADDE addresses following key innovations:
Development of an intelligent data-driven AM pipeline.
Combination of automatic topology optimisation algorithms for design, multi-scale process modelling, automated hardware-independent process planning, online control and distributed NDT for the manufacturing of certified metal parts.
A self-adaptive control is adopted focused on the implementation of non-propagation of defects strategy. Moreover, Data Analytics will provide a continuous refinement by acquiring process knowledge to assist in the manufacturing of new metal components, improving right-first-time production by adopting a mass customization approach
Cybersecurity ensures data integrity along the AM workflow, providing a novel manufacturing methodology for the certification of metal AM parts.

INTEGRADDE implements a twofold deployment approach for the pilot lines: both in application-driven at five industrial end-users (steel, tooling, aeronautics, and construction) and open-pilot networks at RTOs already owning AM infrastructure (AIMEN, IREPA, CEA, WEST). This will allow a continuous validation and deployment of specific developments towards industrialization, boosting definitive uptake of AM in EU metalworking sector.
More details
---
This is a set of Specific Objectives and Research & Innovation Objectives that is subject to a consultation in preparation of the Made In Europe Partnership. For more guidance about the consultation, please see www.effra.eu/made-in-europe-state-play.
Comment:

Objectives 1.1, 1.3 and 1.5 seems complementary and would be open in different call years.

Comment:

Maybe laser-based manufacturing would be defined as a driven for achieving high-precision manufacturing. A holistic approach linking simulation, online process control and quality assessment would be considered.

Comment:

A pilot-line topic should be considered for this objective, trying to maximise impact at industrial level.

Comment:

A pilot-line topic should be considered for this objective, trying to maximise impact at industrial level.
Comment:

Advances in general purpose production technologies such as Laser-based production, Additive Technologies, Nano-and microproduction, Machine Vision/Inspection, Machine learning, Robotics, Automation and Handling would be considered.

Green chemical and thermal recycling technologies would be considered.

AI-based solutions covering the value chain as well as optmising business are pivotal.

Comment:

A pilot-line topic should be considered for this objective, trying to maximise impact at industrial level.
Comment:

A closed-loop digital pipeline connecting engineering, management and production for defining a more accurate manufacturing strategy from initial design would be considered.

Novel holistic approaches, leveraging the potential of Artificial Intelligence (AI), Internet of Things (IoT), mobile and ubiquitous ICT tools, and robotics would be addresed.
Comment:

Intelligent and autonomous handling and robotics, assembly and logistic technologies (including Assistive technologies) would be considered.
Raquel Carro
19/11/20 - 10:53
Standardization in INTEGRADDE
In research projects, especially when public funding is provided, the effective, economic usability of the results is increasingly in the focus. Research projects must therefore be holistically and long-term oriented. For this purpose, DIN offers many years of expertise to provide optimum support for the market transfer and dissemination of innovative results from research and development.
In INTEGRADDE, DIN is the partner for questions concerning standardization. DIN coordinates the standardization activities of the project. These activities comprise the knowledge transfer regarding standardization, the development of an overview of the current standardization landscape in the subject area AM as well as the development of accompanying standardization measures.
To foster the knowledge transfer a special standardization training was developed aiming to enable the project partners to develop and pursue joint standardization activities.
The overview of the current standardization landscape provides a detailed research on relevant standardization committees and corresponding standards.
In the case of INTEGRADDE, it quickly became clear that ISO/TC 261 "Additive Manufacturing" is trend-setting in AM and that close cooperation should be targeted.
Due to the very different knowledge base in INTEGRADDE about standardization DIN has developed a standardization training especially for the INTEGRADDE project. The aim of the training was to provide knowledge enabling the project partners to develop and pursue joint standardization activities. Furthermore, the training emphasizes the high relevance of standardization for AM and is meant to motivate the project partners to follow current developments in standardization committees as well as to document and disseminate the knowledge acquired in INTEGRADDE in the long term. The training is divided into the following five chapters: Meaning, structure, integration, AM, follow-up. Each chapter has its own conclusion with the most important information in order to realize an easy understanding and the highest possible absorption of the knowledge.
The training provides information on why it is important to push the issue of standardization both from the beginning and continuously and what the benefits of standardization are. This is followed by an explanation of the basic principles of the working method and the underlying process. The third chapter presents the possibilities for participation and gives an assessment of the resources required for participation.
In the chapter specifically focusing on AM, the most important standards are listed and the standards research carried out is explained. In addition, the structure of the standardization committees in the area of AM is explained before finally reaching a conclusion with the most essential information.
After these cornerstones were laid, the actual standardization started. Challenges faced by the project partners due to gaps in standardization were assessed with the help of a two day workshop. On day one the project partners were asked to position themselves within the INTEGRADDE process as well as to identify and to prioritize current challenges with regard to standardization. On the second day of the workshop the challenges were compared to current and planned standardization projects of ISO/TC 261. These comparisons have been discussed and it was determined in which projects INTEGRADDE should participate or comment. The following key issues of INTEGRADDE for standardization could be identified:
· Digital thread
· Quality assessment (operator, machines, process)
· Software interoperability
· Process safety
· Testing (software, non-destructive, destructive)
· Properties(feedstock conditions, material, finished parts (e.g. defects))
· Design methods
· Terminology
Based on these results a common standardization strategy for the INTEGRADDE project has been prepared. Especially the standardization idea of the "digital thread" for which there is currently no current or planned standardization project is of great importance for the INTEGRADDE project. For this reason, the project is currently striving for close cooperation with ISO/TC 261/WG 4 "Data and Design". With the development of the standardization strategy, an important milestone was accomplished regarding standardization. The further implementation of this strategy will be coordinated and supported by DIN.
As steps in standardization DIN will continue to pursue a close collaboration between the standardization bodies and INTEGRADDE. One step will be to contribute to the assessed standardization projects. DIN further will identify the responsible groups within ISO/TC 261 for the remaining standardization ideas and check how these can be addressed best.
http://www.integraddeproject.eu/590/standardization_in_integradde
Read more
Go to project forum
Social feed
15/01/2021 10:28:57 - Integradde Project -@Integradde
O Porriño, España
Preparation physics-based models are used to optimize the design, define the deposition path, investigate collisions, predict material quality and final part shape. Read the whole article based on recent work performed by
@aimenct
,
#CEA
and
@ESIgroup
. 👉[
URL
] [
Go to tweet
]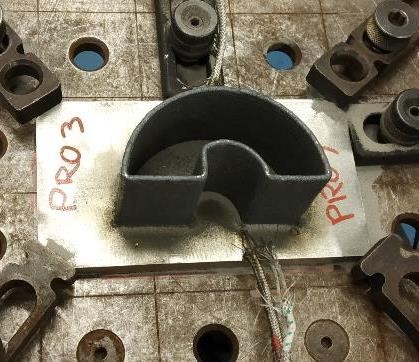 Visit Twitter Page
---
Go to project forum