ZDMP
Zero Defect Manufacturing Platform
Smart, SME Friendly, open, Zero-Defect Manufacturing Reference Platform, Apps, SDK, and Marketplace for Product and Process Quality in any factory for achieving excellence in European and Global Manufacturing The ZDMP project combines state of the art technological approaches based on commercial grade standard or open-source or previous-project software with an innovative integration concept based on proven and integrating technologies. It provides Process and Product Quality support on top of a platform layer. These all can utilise ZDMP core services which can also be used to build ZD Apps which are placed on the ZD Marketplace.
The ultimate aim is to establish a sustainable business and technological approach at the end of the project and launch 'ZDMP Limited' assisted by the possibility of a crowdsourcing approach and ZDMP ambassadors.
ZDMPs pan-European consortium entails
ICT Technology SMEs (ICE, ASC, SOFT),
Manufacturing/ZD Technology SMEs (PROF, CET, VSYS),
Technology Corporates (SAG, Scale Focus),
4 Sector and Cross-Domain Use cases (14 Partners SME/Large from Automotive, Machine Tools, Construction, Electronics),
Researchers/Associations (IKERLAN, ITI, UNINOVA, TUT, and UPV), specialists (DIN , German Standards, Rooter , Regulation, UOS-ITI , Call Management).
ZDMP also is supported by the Coordinating partners of FOF projects CREMA, vf-OS, and C2NET.
Social feed
The
#ZDMP
Portal component serves the purpose of providing the consistent, transparent and secure interface to the wide range of ZDMP deliverables, such as zApps and zComponents. More information at [
URL
] Author: Duncan Ritchie, Information Catalyst (ICE). [
Go to tweet
]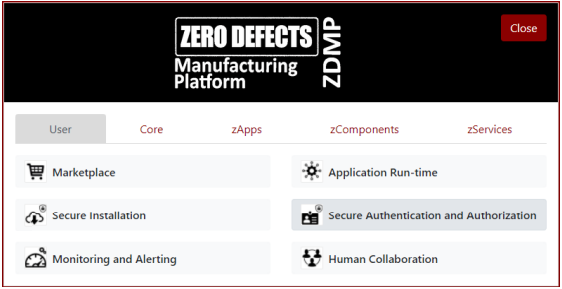 Visit Twitter Page
---
Go to project forum