HR-Recycler
Hybrid Human-Robot RECYcling plant for electriCal and eLEctRonic equipment
The technological advances that have been achieved over the past decades have led to a tremendous increase of both the types and the total amount of electrical and electronic equipment that is manufactured. Despite the importance of Waste Electrical and Electronic Equipment (WEEE) management, the issue of the WEEE recycling has not received that increased industrial attention.
HR-Recycler will target the development of a 'hybrid human-robot recycling plant for electrical and electronic equipment' operating in an indoor environment. The fundamental aim of the system (and its great innovation potential) will be to replace multiple currently manual, expensive, hazardous and time-consuming tasks of WEEE materials pre-processing with correspondingly automatic robotic-based procedures (categorization of electric/electronic devices, disassembling them, sorting of device components), before the materials are eventually provided as input to a fine shredding machine and conventional material separation steps are applied (using air/water flows, oscillating movements, magnets, etc.).
More specifically, the overall goal of HR-Recycler is to create a hybrid collaboration environment, where humans and robots will harmoniously share and undertake at the same time different processing and manipulation tasks, targeting the industrial application case of WEEE recycling.
The primary output of the envisaged system will be to extract sorted electric/electronic device components [e.g. Printed Circuit Boards (PCBs), Cu coils, capacitors, etc.] and concentrated fractions (e.g. copper, aluminium, plastics, etc.) of increased economic and environmental value; hence, contributing to the fundamental goal of the 'European circular economy' project and boosting economic activity in secondary markets. Additionally, mixed fractions (i.e. fractions with low concentration in valuable materials) will be collected, in order to be sent to other facilities for further dedicated recycling process.
More details
---
This is a set of Specific Objectives and Research & Innovation Objectives that is subject to a consultation in preparation of the Made In Europe Partnership. For more guidance about the consultation, please see www.effra.eu/made-in-europe-state-play.
Comment:

Provide advanced and sophisticated AI-based cognitive perception capabilities at cell and factory level to achieve autonomy, human-robot collaboration, productivity and safety. Explicit models of human cognition and behaviour in the context of human–robot collaboration will be developed so robots and workers will function as members of the same team throughout the factory floor.

KPI: Cognitive perception in factory floor and workchells surpass 80%

KPI: Increase manipulation success rate by 50%
Comment:

support safe and effective human-robot collaboration in the phases of device classification, disassembly and materials sorting in WEEE recycling plants.

KPI: Reduction of de-and remanufacturing costs of at least 20% with respect to currently adopted processes

KPI: Reduction of production costs, for products with re-usable components, of at least 30%.

KPI: Decrease in waste and scraps in de-and remanufacturing of at least 40%.
Comment:

Implement advanced mechanisms for realizing safe and efficient collaboration with humans; AR-based human-machine communication.

KPI: enhance worker perceived collaboration efficiency & safety by at least 25%
Not specified (see website if available)
Alexis Papadimitriou
24/06/20 - 10:13
CERTH explain their work in AI-enabled Cell-level perception methods
The objective of this task is to provide the envisaged robot with the ability to perceive the industrial environment so as to effectively collaborate with the humans and assist them with the Waste Electrical and Electronic (WEEE) device recycling process. Towards this direction, CERTH recorded multiple recycling procedures of four WEEE devices, namely PC Towers, Microwave Ovens, Flat Panel Displays and Emergency Lamps, focusing on the human-robot collaboration aspect during the WEEE device disassembly, thus creating a WEEE device component detection dataset by manually annotating a number of the recorded frames.
Given this dataset, CERTH deployed state of the art Computer Vision methods utilizing Deep Learning techniques in order to train a Convolutional Neural Network (CNN) capable of detecting the four WEEE devices as well as their respective components during the various stages of the disassembly process. Additionally, CERTH enhanced these methods by proposing an anchoring mechanism targeting specifically the detection of small objects.
https://www.hr-recycler.eu/certh-explains-their-work-in-ai-enabled-cell-level-perception-methods/
Read more
Go to project forum
Social feed
24/03/2021 17:02:21 - HR-Recycler -@HrRecycler
Thessaloniki, Greece
@HrRecycler
7th plenary meeting.On 23-24 March, the whole consortium met to discuss the progress on the
#hybrid
#human
#robot
recycling plant for
#WEEE
material. [
URL
].
@tecnalia
@GAIKER_BRTA
@SadakoTech
@comaugroup
#ecoreset
@interecycling
@RobotnikRobots
[
Go to tweet
]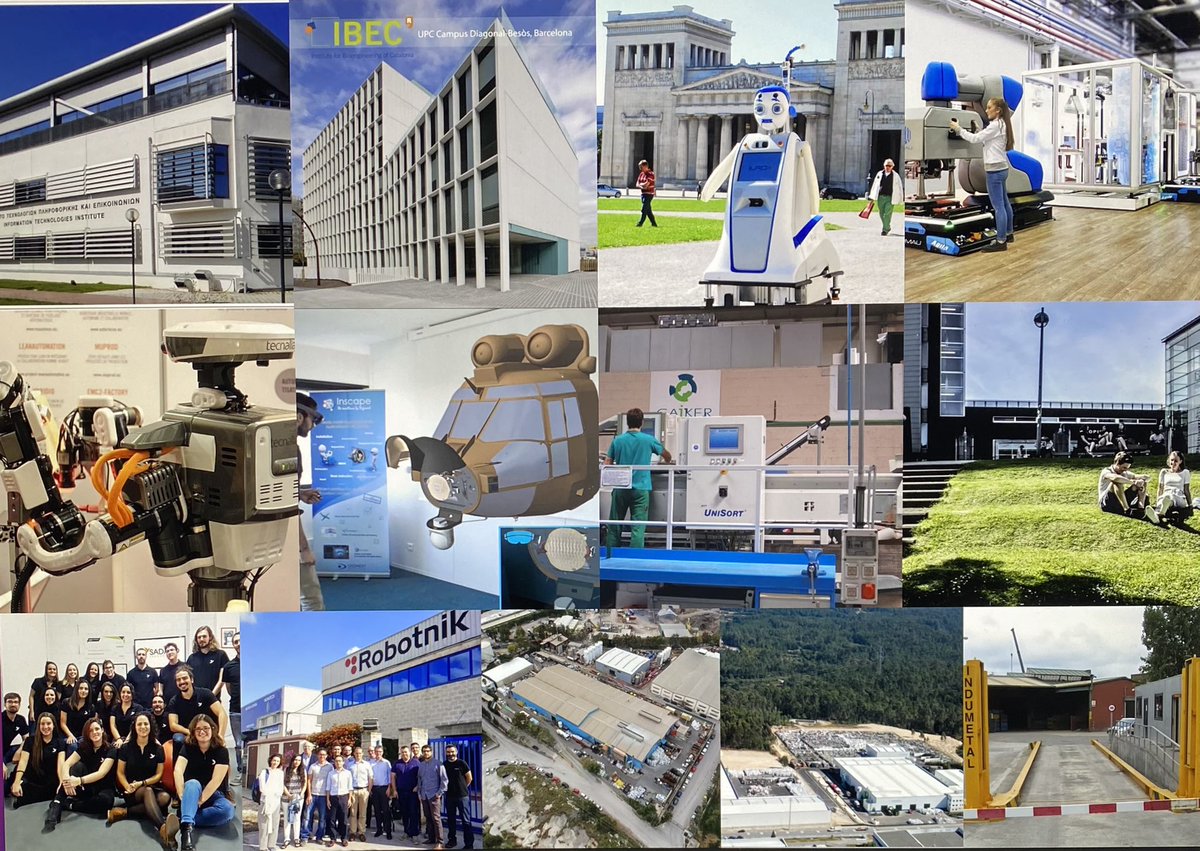 Visit Twitter Page
---
Go to project forum